Allwin Eco solvent ink for eco solvent printer with dx4 dx5 dx7 head




We supply all type ink:

Eco solvent ink for Epson dx4, dx5, dx7 printhead. compatible for Roland, Mutoh, Mimaki printer with dx4 dx5 dx7 head, Chinese eco solvent printer with dx5 and dx7 head
Solvent ink for Seiko 510, Seiko 1020, Seiko 508GS head, Konica 512, Konica 512i Konica 1024 head, Spectra 512, Starfire 1024 head, Xaar 126, 128, 382 printhead
Sublimation ink for Epson dx5 dx6 printhead, Compatible for Mutoh printer etc
UV ink for Seiko head, Ricoh GEN4 head, GEN5 head, Spectra head etc.





Product Description & More detail Pics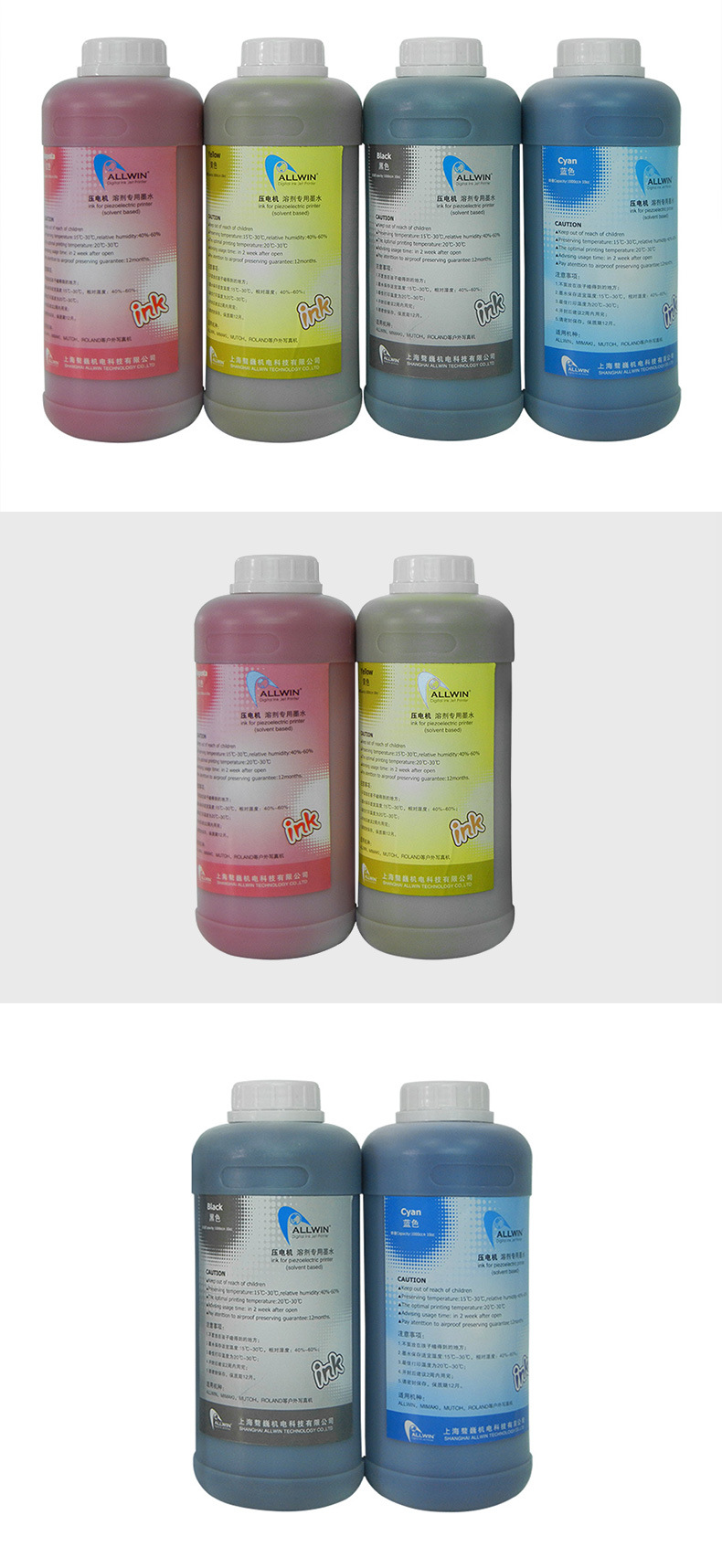 *One truly environmentally friendly brand
*Faster drying improved productivity
*High cilmate-resistant and outdoor warranty
*Bright colors and wide gamut
*For all printers equipped with dx4,dx5,dx7 head

Product Name

Compatible printhead

Color

Suitable Material

frontlit ,backlit,vinyl,polyester,Window film ,mesh ,backlit film ,blue back paper,ect roll to roll materials

Durable life

Eco solvent ink durable outdoor prints up to 2 years.

Package

1Liter/bottle.20 bottles/carton

Storage tips

1.Temperature in transit & storage 5~35°c
2. Operation temperature: 18~25°c
3.Relative humidity: 40~80% non condensing
4. Keep the ink away from the direct sunlight

Used

Allwin: Allwin AW-160S/180S/320S
Witcolor: : Wit-color Ultra 9200 1601S/1902S/2302S/3302S...
Galaxy UD-181LA/1812LA/211LA/2112LA, UD-251LA/2512LA;
Galaxy UD-161LC/UD16-12LC/UD-181LC/UD-1812LC/UD-3212LC
Roland Series Printer, Mutoh Series, Mimaki Series
Gongzheng V1801S/1802S/A1801S/1802S/2602S
Smart SMT-160S/230S/2302S/3302S
Operation Environment:
Temperature: 20-32°C
Humidity: 35-80%
Avoid dust polluted environment.
Use up all the ink within 2 months after opening the lid of bottle.
Keep in a dry area.
Keep away from direct sunlight and heat source.
Storage temperature: 15-30°C.
Do not place ink on the cold floor.
Well close the lid if not using.
If splash in eyes: Rinse cautiously with water for several minutes.
If splash on skin: Wash with plenty of soap and water.
If skin irritation or rash occurs, get medical advice / attention.
If feeling unwell, call a Medical Center or doctor / physician.


Applicable

This eco solvent ink have a wide range of applications, suitable for paper glue, Photographic paper, stickers, printing cloth, non-woven fabrics, leather, PVC and other media.
Specification
1 liter/ Bottle
Package & Details

20 Bottles/Carton Box.




Dimension L460 * D290 * H260mm, 0.035CBM/Carton Box.




N.W. 20Kgs/Carton Box, G.W. 22Kgs/Carton Box.

Shipping Method
Fedex, Boat shipping
Company Information